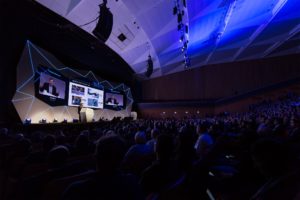 As thousands of high-tech executives and investors gathered in Jerusalem for this year's OurCrowd crowdfunding summit, the question of how Israel became the Startup Nation was never far from discussion.
How did Israel, a tiny nation, with no natural resources of its own and surrounded by enemies, come to have more companies on Nasdaq than India, Japan and Korea combined? How did we become no. 1 in the world in both R&D spending and venture capital investment per capita?
Why does every major technology company – Apple, Facebook, Microsoft, Google, Intel, General Electric and more – have an office here, developing some of the most cutting-edge technologies in artificial intelligence, cybersecurity, autonomous driving and medical devices?
There's no shortage of answers – heck, there's even an entire book (Saul Singer and Dan Senor's bestselling "Start-up Nation") dedicated to the subject.
I'd like to offer 5 reasons of my own.
1. Innovation army. This is probably the most cited way that Israel is "different" than other countries, and for good reason. Israel's mandatory conscription gives 18-year-olds incomparable responsibility.
Critical decisions that have changed the direction of wars can – and have – been decided by soldiers in the field. Hierarchy in the IDF can be surprisingly informal and privates who speak up are often rewarded not punished.
That's something Ilan Regenbaum wants to see more of. The 27-year-old immigrant from Atlanta is serving in the Israeli Air Force's "Innovation Unit," which has as its goal transforming the army from a bureaucratic machine to something more Google-like.
Regenbaum's unit runs an in-house "accelerator" (the first internal army accelerator anywhere). Think Y Combinator or MassChallenge but for military entrepreneurship. While it's just Air Force for now, the aim is to eventually change the culture of the IDF as a whole.
2. Immig-tech. From its very start, Israel has been a nation of immigrants and that has contributed immeasurably to the proliferation of new ideas, increased economic demand, and brought an infusion of tech talent looking for a home.
Immigrants have played an especially strong role in Jerusalem, my hometown. According to Startup Genome's 2017 Global Startup Ecosystem Report, Jerusalem startups have the 7th highest rate of immigrant founders in the world, at 34 percent. That's double the percentage in Tel Aviv. It makes sense: Immigrants don't fit neatly into Sabra-led organizations, so they create their own.
3. Chutzpah. When you live in a neighborhood like the Middle East, and especially when you're young and idealistic, nothing seems impossible and Israeli entrepreneurs will try just about anything, fail and try again. Sometimes this leads to great success. But chutzpah can be a double-edged sword.
Israeli electric car startup Better Place, the subject of my recent book TOTALED, is a perfect example. The company's CEO, Shai Agassi, was truly motivated by a desire to wean the world off oil. His often brash behavior helped the company raise nearly a billion dollars. But Agassi's audacious style also alienated many of the partners Better Place would eventually need to succeed.
Still, even though the company has now gone to a better place, Yaron Samid, who founded the TechAviv Founder's Club, told me when I spoke to the group in December that we need more people like Shai Agassi, not less, and now more than ever. "Only people who dream so big can truly change the world and inspire others to do the same," he said.
4. Argue like an Israeli. Roey Tzezana is a futurist and author of the Israeli bestseller "Guide to the Future." To solve the world's biggest problems, tech leaders and entrepreneurs need to "argue more like Israelis," Tzezana says.
"We need to create a culture and a society where people aren't afraid to disagree" like they are in much of the overly polite West, Tzezana told me; "where they aren't afraid to fight over intellectual dominance, and will really shout at each other – and later get up, shake hands and give each other a hug."
5. People of the fix. Jewish sources are full of apparent contradictions, where it says one thing and then later another thing entirely. Sometimes that's a story that doesn't make sense. (Did the Flood described in the book of Genesis last for 150 days or for 40 days and 40 nights?) Other times it's a minuscule interpretation of Jewish Law. (When can one eat from the new harvest? From the height of the day or only after a sacrifice is brought?)
The rabbis in the Talmud can't stand cognitive dissonance. And so much of their back and forth bickering is really working over areas in dispute, until they come to some type of harmonic resolution.
Our tradition – and our thinking today – is filled with this type of "fixing." Indeed, the Jewish brain seems hardwired towards Tikkun Olam ("fixing the world") from the very act of studying our foundational texts.
Do high-tech entrepreneurs think about this when they're researching a cure for cancer or building an Iron Dome? Some do.
Prof. Zvi Bentwich founded NALA, an NGO that addresses "neglected tropical diseases" like schistosomiasis (snail fever) in Africa. "Tikkun Olam was very much a mission in our family," he told me in a recent interview. "I volunteered early on as a student. So I feel that it's kind of an obligation."
Gal Salomon, the CEO of CLEW Medical, perhaps says it best. "The Jewish mind is always coming up with new ideas." Israelis, he adds, "just won't take no for an answer."
I presented my 5 reasons Israel is the Startup Nation first at The Jerusalem Post.