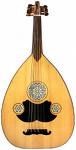 The annual Jerusalem International Oud Festival has become the leading event of its kind on the ethnic music calendar. Now in its tenth year, the festival, which kicks off tonight, lasts for 16 days and includes shows in both Jerusalem and Nazareth. But those of us fortunate to have attended last week's "Boogie Nights" dance party got a special sneak preview.
Boogie is a Jerusalem institution. A twice-monthly feel good free movement extravaganza, Boogie is a place where you don't have to worry about your dance steps or partner. You just flail your arms around, hop up and down and twirl to the beat which emphasizes energetic world music rather than the disco or trance found at more traditional clubs and bars.
This edition of Boogie featured an hour-long oud performance in a separate room. The tight group of three performed on guitar, darbuka and a strange breathy sounding flute. The crowd lounged on yoga mats arranged haphazardly across the floor. Many clutched cups of Chai tea, a popular Boogie beverage, in keeping with its international flavor.
The oud is a strange-sounding (to Western ears) kind of Middle Eastern lute. It owes its origins to the Arab world but there are now practitioners from Turkey, Spain, India, and Greece.
To mix it up even more, tonight's opening of the official festival features veteran Israeli rockers Nikmat HaTraktor (The Tractor's Revenge) performing versions of Jewish piyutim (medieval poetry) written by the Spanish poet and rabbi Yehuda Moshe Ibn Ezra, regarded as one of the literary giants of the golden age of Spain. And yes, they'll be playing an oud.
Other concerts in the festival, according to the Ministry of Tourism, include:
— "Sounds from Syria," a tribute to Sabah Fakhri, performed by the Tarshiha Orchestra for Arabic Music.
— "This Was What He Originally Intended" – piyutim of Hebrew poet Rabbi Israel Najara.
— "Debka Fantasy," an Israeli musical exploring the early days of Jewish settlement blending Eastern and Western music.
— "Ad Adei Ad," a work composed specially for the festival based upon texts from the Kabbalistic Sefer ha-Yetzira.
As for the funky rhyming name of the Boogie special evening – "Oud v'Rikoud" – the latter is Hebrew for "dance."
Hmm…I wonder what they'll call the next Boogie in two weeks? That one features another eclectic special event: an African drumming workshop and performance. Hakuna Mata-boogie? I'll most certainly be there and let you know.