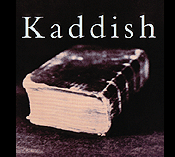 Since my father died two months ago, I've thought a lot about what is the nature of community and, in particular, what is my place in it. It's not a simple question.
For many years I've been what I jokingly call "tefilacally-challenged" (tefilah being the Hebrew for "prayer"). Prayer is not something that's easy for me to relate to. Yes, I go to synagogue but, more often than not, I use it as a time for introspection, maybe a little light meditation, rather than reading the specific words in the siddur.
One of the strong prayer traditions of mourning is to say Kaddish whenever there's a minyan. One says it for a year after a parent dies, a month for children, spouse and siblings.
For many observant Jews, this means making an effort to get to synagogue for the three daily prayer services. As I've talked with people about the mourning period, I've heard repeated stories of ostensibly secular men and women taking on this commandment and deriving great satisfaction from it.
That hasn't been my experience, though. Indeed, the Kaddish, for me, is even more difficult than the rest of the davening. I'm a very literal person and I find it hard to get my head around the traditional understandings of the prayer: that I'm helping my father's soul find its way to heaven, or that I am so anguished that I must publicly proclaim my faith multiple times a day, lest I lapse into heresy. In any case, my devoutly irreligious father wouldn't have wanted any part in all this.
Don't get me wrong, despite my misgivings I've still been saying Kaddish…but only when I make it to shul, which is erratic at best. And yet, as I've written before, sitting shiva in Israel was one of the most meaningful moments of my life, primarily because of the power of community. The fact that so many people came from all over the country to support me and to hear stories about my father still brings tears to my eyes.
But I have to ask: does that community expect anything in return? Or to put it differently: what are the essential minimums of participation that qualify one for membership in a religious community?
I'm not speaking about the specific communities to which we belong here in Jerusalem which are as liberal and accepting as any I've known. (The joke at shul is that, as long as you show up for Kiddush duty, you're a bonafide member.)
To be sure, there are many aspects to a religious community: learning, giving tzedakah, hosting guests for Shabbat, celebrating smachot, Zionism, observing Jewish law. But isn't the prayer community the most central pillar?
Jews for thousands of years have prayed together. The Mishna and Talmud are filled with rules about what to say at what times and in what situations.
Can one come to Saturday morning Kiddush without saying Kaddish? How about if you come Friday night but not Shabbat day? Or if your wife and/or kids are regulars – can you coast by on the zechut of the family?
Many of the same arguments could be made for online communities, by the way. Is it enough to join, or do you need to create a profile, upload some pictures and "poke" a few people? What if you only "lurk" on a discussion forum rather than participate? Are you truly a member of the community if you follow your activity stream but never update your status?
In the midst of all this, I attended a talk by Rabbi David Aaron. A friend had heard Aaron speak on prayer and insisted that we attend. Maybe it would give me a new perspective, she suggested.
I should have known better. The author of such books as "The Secret Life of God" and "Living a Joyous Life: The True Spirit of Jewish Practice," Aaron's message was as disheartening as it was exclusionary.
In essence, he said that if you're not a part of a prayer community, there's really no point in being in the religious Jewish world at all. The unstated implication: "We don't want you." That had me running for the spiritual door.
I had the exact opposite experience during a private meeting with Nachshon David Mahanymi, a Rabbi-in-training with the Jewish Renewal movement here in Jerusalem. His take was that I was getting it all backwards.
The year of mourning is all about creating meaningful ways to remember the person who has passed away, he said. We began to brainstorm alternative approaches for how I could honor my father, in a manner that he would appreciate and to which I could better relate.
There's an expression referring to the mourning period, "ilu'i nishmato," which, re-framed in a modern light, might be translated as "to elevate the essence of who he was."
My father was a writer. And music infused his life with joy. What could I do that would incorporate these two elements of his life, I wondered?
An idea began to form. Perhaps I could sponsor a series of events over the course of the twelve months of mourning that would serve to elevate his name.
And by making these public, it might also be a way where I could connect with community beyond the walls of the synagogue. Call it an "Enhanced Kaddish."
To that end, the first community event that I have planned will take place on Tuesday, June 9 at 8:30 PM at Kehilat Yedidya, 12 Nahum Lifshitz Street in the Baka neighborhood of Jerusalem. It will be an evening of "stories and song" in memory of my father.
Joining us will be Yoel Sykes and Daphna Rosenberg, musicians from Nava Tehila, who have composed seven original songs based on psukim from various places in the Torah, prophets and psalms. By weaving together the music with the text, my hope is that you will get to know better what my father was like and what he was passionate about.
I'll continue saying Kaddish in shul – at least when I make it in time – while at the same time bringing my Enhanced Kaddish to the greater community. Beyond that, my year of mourning, I expect, will be challenging and constantly evolving.
I'm OK with that. Are you?