I look forward every year to when Stav Erez and Eli Nir, partners at OurCrowd, take to the stage in Jerusalem at the venture capital crowdfunding platform's Global Investor Summit to present their predictions for the top tech trends of the next 12 months.
So, what can we expect to come our way in 2023?
1. Fusion gets 150 million degrees hot. The announcement by the National Ignition Facility at California'sLawrence Livermore National Laboratory that it had achieved a breakthrough in producing nuclear fusion ignited a power generation frenzy that has reached Israel. The Israel Energy Ministry recently pledged $11.5 million to establish a national nuclear fusion institute. The funding will include NT-Tao, a local startup developing a compact system for nuclear fusion. With fusion, there are no radioactive elements left over as with fission power plants.
2. Space is becoming crowded. That's both a nod to the fact that space junk is increasingly clogging up the pathways from the Earth, as well as the strong interest by investors in space-tech. Israeli startups of note include Helios, which is creating a system to mine minerals on the moon; SpacePharma, which is developing drugs in zero gravity; and cSpace, which is mounting telescopes on nanosatellites.
3. Innovation puts equity into healthcare. Israel's prowess in medical devices and technology is well known, as are the benefits of our national HMO system which enables researchers to access robust, anonymized databases. All of this promises an equitable future where anyone can access top quality healthcare anywhere at any time. Among the Israeli startups in the space are Feelbetter, which can identify patients at risk for a range of diseases, and Tunefork, which employs smartphones to conduct home hearing tests.
4. The carbon rush is on. Erez and Nir were referring here to the rush to decarbonize the atmosphere to forestall the worst effects of climate change. Among the Israeli startups leading this space are BlueGreen Water Technologies, which says it has used its water-based carbon removal tech to remove some 3.3 million tons of carbon from the air, H2Pro, which uses a new form of electrolysis to create non-polluting "green hydrogen"; and Luminscent, which has developed a method to capture "waste heat" from large industrial plants.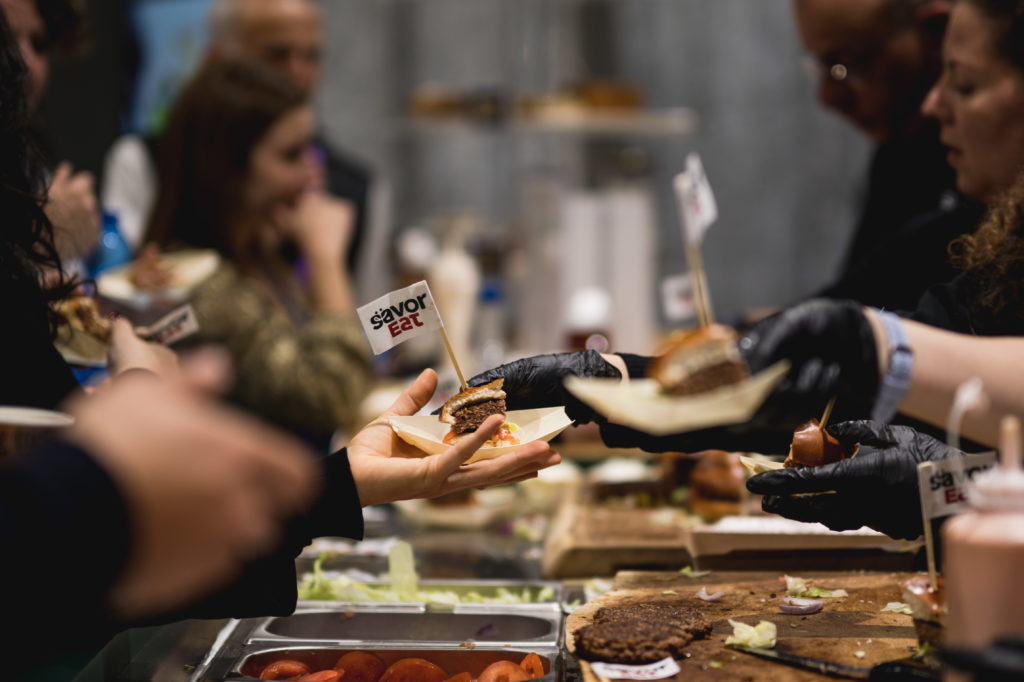 5. Food tech parity is on its way. Plant-based alternatives to meat are already becoming mainstream; lab-grown cultured meat is on its way, too. But to really take off, they must taste good. Fortunately, some of the food-tech innovations on display at the OurCrowd Summit were truly scrumptious. SavorEat was giving tastes of its 3D-printed plant-based burgers, while DouxMatok's Incredo Sugar is real sugar but with 30% to 50% less sweetener. I had a muffin with Incredo-made "Nutella" – it was even better than the "regular" peanut butter chocolate squares at a nearby table. 
6. The next frontier in energy is storage. It's one thing to find new ways to produce energy. But how do you store it, especially if it's from a renewable source like the sun that winks out every night at dusk? The usual answer: batteries. Indeed, Ford says that its new electric F-150 Lightning's batteries can power a house for up to three days. Israeli startup Addionics is developing batteries for electric cars it says can store twice the energy as is traditional. Beyond batteries, Quidnet aims to stash excess energy in pressurized water buried in between layers of rock in the ground. 
7. The era of specialized silicon has arrived. One of the bottlenecks that the Covid-19 pandemic unmasked was serious problems with the global supply chain. With ship crews, truck drivers and dock workers stuck in quarantine, the normally steady supply of semiconductors slowed, resulting in long delays for everything from new cars to computers. That's opened an opportunity for what Erez and Nir dubbed "bespoke silicon." An example: Israeli firm Hailo is developing its own AI processing chip to work with "edge devices" – hardware like a router or switch that controls data flow at the boundary between two networks.
8. Generative AI – a virtual breakthrough. ChatGPT, the new conversational AI tool that's now being bundled into Microsoft's Bing search engine, along with Google's upcoming alternative, Bard, have captured the world's imagination in just a few short months. While there are pitfalls to the technology – Bing repeatedly told New York Times tech analyst Kevin Roose to leave his wife – the future will clearly be even more computer-mediated than it is today. The tech is not usually so confrontational. Israeli startup D-ID, for example, enables customers to create custom videos with talking avatars "with the touch of a button." 
9. The metaverse – is it game on or game over? Facebook is so convinced that the metaverse will be the next big thing, it even changed its corporate moniker to "Meta." It's not all fun and games, though. Surgical Theater allows physicians to visualize operations better via the metaverse. Its augmented reality application renders text and data over the live image of a patient's anatomy so a physician wearing a Surgical Theater headset never needs to take his or her eyes off the surgical site. 
10. We need a trillion new trees. Trees are a crucial component to combating climate change. Yet, over the last century, half of all the forests on the planet have either been chopped down or devastated by wildfires. The Earth loses an average of 20 billion trees each year. Nir and Erez pointed to the OurCrowd-backed Flash Forest, which aims to use drones and its unique "seedpod" technology, containing water-retention additives, beneficial bacteria and fungi, minerals and nutrients, to plant a billion trees by 2028. 
I shared Erez and Nir's predictions first at The Jerusalem Post.
Picture of main crowd and SavorEat burgers: credit Tomer Foltyn