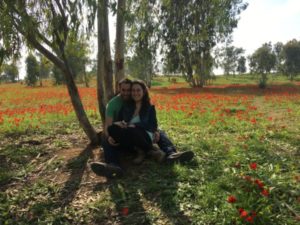 My daughter Merav is a proud Zionist. But even Zionists get scared sometimes. And living for the past two years in the Gaza border community of Sderot, where she's studying at Sapir College, there's been a lot to be frightened of.
In a heartbreaking post that's been circulating on social media, Merav described the weekend of July 15, when 150 missiles were fired from Gaza. One landed just a block away from her apartment. After the hundreds of incendiary kites and balloons that have turned the air outside Merav's idyllic student dorm room into a smoky hell, that was the straw that broke this Zionist camel's back.
"We grabbed our backpacks and started stuffing them with whatever was near, threw them in the car and hit the gas, driving 140 km an hour through the eerily empty streets of Sderot, as though we were being chased," Merav starts her piece. "I didn't breathe normally until we passed Bror Hayil, a kibbutz outside the immediate radius of the current missile attacks."
It's not like Merav and her husband Gabe didn't know what they were getting themselves into when they moved to Sderot. After four years of mostly calm following the conclusion of Operation Protective Edge, they knew that violence could return to the region. But they found the laid back lifestyle of Israel's south enticing.
They're not alone.
The Israeli communities adjacent to Gaza have been booming. Hundreds of families have moved to the region's cities and kibbutzim since 2014.
Some come for idealistic reasons: to fortify the vulnerable border. Others cite the natural beauty (although the fire kites have blackened that), affordability compared with Jerusalem or Tel Aviv and the child-friendly atmosphere. One new resident interviewed says that, despite the violence, he feels his kids "are safer here than in the big city."
In the last year alone, eight new homes have been built on Kibbutz Nahal Oz and another 12 houses are being planned – "no small feat for a community overlooking Gaza," reports journalist Amir Tibon.
The same pioneering spirit pervades the student body at Sapir. Merav and Gabe live in a college community called Ayalim, part of a national organization that recruits young people to move to student villages across Israel's periphery. Ayalim's 22 campuses provide low-cost accommodation and scholarships in exchange for community service.
In Merav's first year, she volunteered with Holocaust survivors. Last year, she mentored a teenage girl.
Ayalim (and Sapir as a whole) remind me of my own college days in the U.S. – there's a real small-town campus environment, unlike Israel's bigger universities which have a high percentage of commuters. The students make Shabbat dinner together and run a local pub. There's a fantastic humus place nearby (owned and operated by Ayalim graduates).
The city regularly invites top Israeli musicians to perform; most recently Sderot hosted its first Blues Festival.
If I were going to college in Israel, I'd want it to be in Sderot.
All that changed when the Hamas-fueled demonstrations broke out along the border and rockets returned to the skies.
A study which appeared in the Journal of Adolescent Health a few years ago found that half of middle schoolers in Sderot suffer from post-traumatic stress disorder. Others put the number at closer to 80 percent.
When Merav asked the teen whom she mentored last year how she's been coping with the situation, the young girl simply shrugged, her anxiety cloaked in denial.
"It's no biggie for me," she told Merav. "It's definitely better then when we lived in Ashkelon and didn't have a safe room in the house and had to go sleep in the stairwell."
Merav wishes in some ways she could be more like her student.
"When people ask me how it's going living where we live, I so badly want to say 'you know, its life. We handle it, we're Zionists and we are brave!' But I don't. I feel sad and scared."
When the explosions intensified, Merav says she felt every one of them – on both sides of the border. "It was like our house was lifting off the ground," she writes of the night before she and Gabe made their decision to leave for Jerusalem.
You might think at this point we'd be advising Merav to get out. There are other colleges in Israel. Does she have to be such a Zionist?
Merav is having none of it.
"I've never been one to quit anything," she states. Describing her fellow students – as well as herself – she adds, "We are the reason our country still thrives, because we don't leave, no matter how scared we are. Because we know how to weigh the enormous benefits of life in the periphery against the equally enormous challenges."
How does she do it? I don't know if I could.
Merav says she closes her eyes and imagines "the hot summer afternoons, the DJ jamming in the main square of the campus, the popsicles that the student union passes around. I remember the first Sderot marathon a few months ago where the entire city – including me – came out and ran alongside the fear."
School is on break until the fall. Maybe this time, a cease fire will hold. In the meantime, Merav writes how she no longer takes things for granted.
"Every day with no siren is a gift."
That's not a lesson I'd wish anyone would have to go to college to learn. But I'm so proud that my daughter has learned it anyway.
I first wrote about Merav's life in Sderot in The Jerusalem Post.