"If anyone asks where we're from, say America, not Israel."
Those were the instructions I gave to my wife and children for how to minimize friction while traveling outside of Israel after a summer where protests bordering on (and sometimes overtly embracing) anti-Semitism raged across Europe.
Our vacation – ten days in Ireland, hiking, drinking and enjoying Irish music in the country's ubiquitous pubs – was planned long before Operation Protective Edge and its international impact began, and we flew out of Israel scarcely a week after the last missile was downed by the Iron Dome.
Ireland is not France or the U.K., where thousands demonstrated against Israel's actions in Gaza this summer, but there were still some smaller rallies in Dublin, where we spent our first couple of days before heading out to the Irish countryside.
I was determined to keep a low profile. We wouldn't speak Hebrew in public and we made sure not to wear t-shirts giving away where we were from. We long ago swapped strict outwardly identifiable kashrut for a traveler's vegetarian diet when abroad, a choice that would prove to serve us well in Ireland: even in this meat and potato loving land, the most off-the-beaten track pub now offers at least one Indian curry and veggie stir fry dish along with the traditional non-kosher Irish Stew.
This is not the first time we've needed to hide our identity while on vacation. Last year, my wife and I celebrated our 25th wedding anniversary on the island of Bali, which as part of Indonesia, does not allow entry to those traveling on Israeli passports. Bali is an anomaly in Indonesia: a tourist-loving Hindu enclave that just happens to be part of a country with the world's largest Muslim population.
We entered using our U.S. documents and told people we were from California (true, if you go back 20 years). While there is no Chabad or official Israeli presence in Bali, we ran into plenty of Jews and even a couple of Israelis (also with dual citizenship), one of whom operates a chain of organic vegan restaurants and holds Shabbat dinners in her apartment near the beach in Kuta.
In Ireland, concealing our identity was not a matter of gaining entry to the country, as with Bali, but a practical choice. Our plan was to visit a local pub every night. Given enough alcohol, who knows what kind of fracas might erupt if we told a stranger we were from Jerusalem. It was in another English-speaking, pub-centric city that I had a nasty encounter with several drunk dudes that, in retrospect, may have changed my personal destiny.
It was January 3, 1984. I was at the beginning of a post-college round-the-world trek that was to include my first visit to Israel. I stopped into a bar in London. I've never been a big drinker – at university I was nearly a teetotaler – but I was keen on chocking up "experience," and frequenting the local pub was supposed to be a quintessentially British one.
I sat by the bar and got chatty with my new mates, who promptly ordered a round of beers, including one for me. Somehow in the conversation it came up that I was Jewish.
I sipped at my beer while they downed theirs. "Your turn now: you buy us a round," one of the guys said. I hesitated. I hadn't even come close to finishing my drink, plus I didn't know that's how the game worked – there were a lot more of them than me and I was a poor backpacker watching every penny.
"Man, I knew Jews were cheap, but you take the cake," one of the other guys said. The mood turned quickly and I made my way out of the tavern.
Two of the guys followed me onto the street and harassed me with the "cheap Jew" line again. I don't remember if I gave them money for my beer, but there were enough people around outside that nothing else happened. But I was shaken. Had I violated the drinker's code? No…there could be no justification for anti-Semitic epithets.
I flew to Israel the next day. It wasn't as a result of the exchange; my ticket was already booked. Still, I often wonder if that unpleasant send off contributed to the unexpected Zionism that took root once I got here.
Thirty years later, I didn't want a repeat in Ireland with my family in tow, especially not in the current anti-Israel milieu that has taken hold in Europe. And so I instructed my family to say we were from America.
"So you're here for the big game, then, yeh?" asked the desk clerk at our first hotel in Dublin. I stared at him blankly. Apparently there was a well-known American team in town, but I hadn't a clue. "Um, we don't really follow sports," I mumbled, vowing to scour the Internet before our next such interaction.
The truth is, we didn't have that many opportunities to share where we were from – most of our conversations had to do with whether we qualified for the "family discount" to get into a particular castle or whether we were drinking Jameson, Baileys or both. (It turns out you can mix them for an Irish Cream with a killer kick… who knew?)
"Enough of this," our 20-year-old daughter declared a few days into the trip. "I don't see why we can't say we're Israeli. The next person who asks, I'm just going to tell them."
I couldn't stop her. She was an adult. So what happened? Absolutely nothing. People nodded, said something like "that's interesting," "hey, I know krav maga," or "I have a cousin who visited Israel last year." Then they would turn to what we'd seen so far and where were we off to next.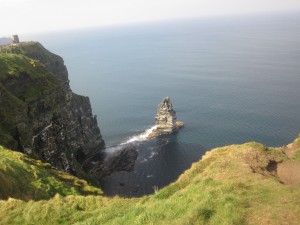 "When you go to the Cliffs of Moher, park your car before you get to the lot. There's a little little farm on the right. You can't miss it. They charge six and a half euros a person to park at the Cliffs, but you can walk in for free," said one helpful local. Nothing about us being cheap Jews trying to cheat the system. Just a helpful tip from an Irishman proud of his country.
I met a retired Irishman in Dublin's Phoenix Park underneath a five story high cross. "So where're ya from?" he asked in an accent thick enough to match the curry we'd been sampling every night. "Israel," I replied. He got quiet for a moment. Then he said, "My wife was a Polish Jew." He didn't volunteer any more information and, since I couldn't understand more than every third word, I let it lie there.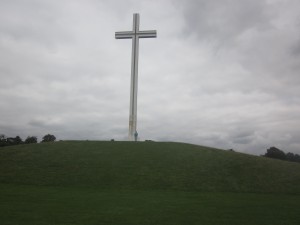 But a part of me felt ashamed. Why had I been so reluctant to say I am Israeli? What had happened to my Zionism in those first few days in the country? Had I been giving in to irrational fear? Or was I just trying to keep my family safe in the best way I knew how?
After all, all the way back in April, before the summer's exacerbation in Israel, European Congress president Moshe Kantor cited a study by the European Union's Agency for Fundamental Rights that showed almost a third of Jews in several European countries were mulling emigration. "Jews do not feel safe or secure in certain communities in Europe," Kantor said at the time. And things have only gotten worse.
Our last stop on the trip was in the tiny fishing village of Doolin. I'd read online that the owners of the Rainbow's End Bed and Breakfast, where we were staying, were named Mati and Carmel. Could it be…were they Israelis? Expats who had made their home far away from the conflict of the Middle East, hosting travelers and spending their evenings at McGann's, a pub known for having some of the best traditional Irish music in all of Ireland?
Now that we were being open about where we were from, I decided to ask.
"Oh no, not at all!" Carmel said, blushing a bit. "Mattie is short for Martin. And I was named for the saint closest to my birthday."
She was referring to Our Lady of Mount Carmel, for which a feast, instituted in the 14th century, is celebrated by the Catholic Church on July 16. But, Carmel added, "I've always wanted to visit Israel!"
"You're welcome to come any time," I told her. And when you do, I thought to myself, you can feel free to tell people where you're from.
Maybe someday I'll be able to do the same.
This article originally appeared in The Jerusalem Post Magazine.