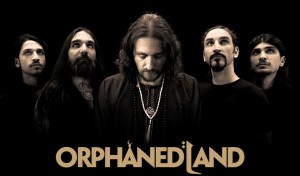 As the peace talks between Israel and the Palestinians were breaking down last week, the Old City of Jerusalem was an unlikely spot of musical coexistence. And nowhere was that more pronounced than in a hard-to-find back alley called Muristan Square where two performances demonstrated that the situation doesn't have to be as bleak as one reads in the news.
The "Sounds of the Old City" celebration was the impetus for weeklong series of breathtaking outdoor concerts. Now in its fourth year, Sounds of the Old City is another in Jerusalem's successful deployment of free cultural events, the kind that led me to the hopeful conclusion I wrote about in a previous post that Israel's capital is confidently coming back to life after years of stagnation.
This latest festival takes place over four days and includes tens of performances in picturesque Old City locations; even if the music would have been sub-par (and it wasn't, not by a long shot), the backdrops of Jerusalem stone brought alive through colored, pulsating spotlights, would be enough to recommend this one-of-a-kind event.
Sounds of the Old City matches its surroundings to a fitting spectrum of world music, with an emphasis on the Middle East. At the entrance to Jaffa Gate, a stage featured musicians such as the all female Sharkia band and the mixed gender Istiklal trio playing Turkish musician with Indian influences. A few steps away, across from the Tower of David, a band called Triple Cord updated the pop and big band heavy horn sound made by popular Jerusalem super group Marsh Dondurma with a similar Turkish/Armenian groove. Further into the Old City's bowels, the Open Cardo featured a program of Oud music.
The highlight of the festival, however, was in the Christian Quarter where Israeli metal-meets-the-Middle-East rockers Orphaned Land had commandeered the Muristan for multiple performances throughout the week. Orphaned Land eschews the more delicate ethno-musicological leaning of many of the festival's other performers for a head-banging, hard rock approach, with the Arab world always lurking just beneath.
The band, which has been together for more than 20 years, has 5 albums and several EPs to its credit with fans across countries not usually on the Israeli rock and roll circuit, including Iran, Syria, Egypt, Saudi Arabia and Lebanon. Listeners in those countries increasingly travel to Turkey to catch an Orphaned Land show live; the band has played Turkey some 12 times and regularly sells out shows numbering into the thousands. Indeed, David Brinn wrote in The Jerusalem Post that the band is more easily identified on the streets of Istanbul than Tel Aviv.
Orphaned Land's lead vocalist Kobi Farhi, sings in Hebrew, Arabic and English; one of their standout songs is a heavy metal interpretation of the Yom Kippur piyut, El Nora Alila. After years of toiling in relative obscurity in their home country, they even scored a minor hit last year with the quieter, introspective song "Brother" from their latest album "All is One."
Leena Makhul with fan-donated scarf at Muristan Square
While Orphaned Land consists of Jewish Israelis melding Middle East motifs into their straight ahead rock and roll, Leena Makhul, who followed on the same stage on the last night of the festival, is an Israeli Arab who brings a similar multicultural sensibility to an unambiguous pop presentation.
Makhul, who was born in the U.S. and raised in Acre in a Christian Arab home, took the top prize at the Israeli version of the TV song competition "The Voice" in 2012. Short on height but high on charisma, Makhul won over the standing room only audience (well, there were no chairs for any of the concerts) with her infectious smile and mainstream but crowd pleasing selection of upbeat radio-familiar songs.
Makhul's band was competent; her voice decent although almost drowned out by too much reverb. But it was her deliberate dance between languages – she sang first in English, switched to Hebrew, then Arabic (and was that a little French in there too?) that transformed Muristan Square from a Britney Spears-in-training audition to John Kerry's ultimate wet dream about how the two sides can get along. Arab residents of the neighborhood sang along with a big Israeli crowd.
When Makhul revealed how cold she was on stage (Jerusalem in early April can be fickle and her simple black t-shirt, tights and suit jacket attire wasn't winter-proofed) – two audience members threw scarves in her direction, which brought out an even bigger smile from the diminutive singer.
As Makhul worked through a repertoire including Arabic ballads, Israeli power pop from the likes of Mashina and Rami Kleinstein, and even some Leonard Cohen (she performed his "Hallelujah" for her final number on The Voice), the adorable factor worked in her favor and any complaints about the cold, whether political or weather-induced, had long since taken the slow bus to Ankara, where presumably they'll be definitively thawed by another sold out show from a touring Orphaned Land.
This review appeared first on The Jerusalem Post website.