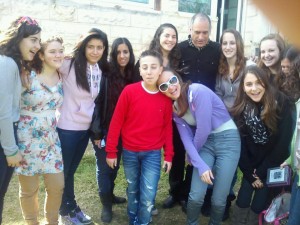 I'm not sure what who was more excited – our 15-year-old-son Aviv who was about to meet one of Israel's biggest pop stars, or his parents, given that Aviv had actually never heard of said star. But we had – my wife Jody's mom even has a picture of her with David Broza from a concert he gave in Los Angeles some 30 years ago.
Yes, that's right, David Broza was the man of the hour. And Aviv's connection: he was invited as part of the Jerusalem Youth Chorus to sing back up with Broza on two songs for his latest album.
The Jerusalem Youth Chorus is a unique Palestinian-Israeli teen choir that meets weekly at the Jerusalem YMCA for a cappella rehearsals and coexistence facilitated "dialogue" sessions. The Chorus was conceived of by Micah Hendler, a recent Yale graduate (and Yale Whiffenpoof's alum) currently in Jerusalem. I wrote previously about the Chorus here.
David Broza has been one of the country's most popular music acts for nearly 40 years. He has had a long history of involvement in humanitarian causes. His hit song "Yihye Tov" became an unofficial anthem of the Israeli peace movement and Broza has performed it many times over the years at peace rallies. Broza's grandfather was one of the founders of the Arab-Israeli peace settlement Neve Shalom-Wahat as-Salam. Broza himself toured the Middle East with Jordanian musician Hani Naser to promote peace through music, and he was once appointed "goodwill ambassador" for UNICEF.
Broza's latest project is an album and video documentary bringing together Israeli and Palestinian musicians. The Jerusalem Youth Chorus was a perfect fit. Hendler was introduced to Broza through an old high school friend of Broza's ("the Holy Land is very small," Hendler says, rightly so). Also included on the album will be Polyphony, a Jewish-Arab youth orchestra from Nazareth, and Mira Awad, an Israeli Arab singer and actress best known for representing Israel along with Achinoam Nini (Noa) at the 2009 Eurovision Awards.
The 32 teens from the Jerusalem Youth Chorus spent several hours last Friday at the Sabreen studio in East Jerusalem recording their parts in two songs: Elvis Costello's "What's So Funny About Peace Love and Understanding" and "Where Do the Children Play" by Cat Stevens. The kids in the Chorus speak a variety of languages; English is often the common denominator.
Chorus director Hendler says getting it all together was quite a challenge. "We only found out [about the opportunity to perform] less than a month ago, so we didn't have much time to prepare. And it was very ambitious musically since most of the kids don't know how to read music. But the kids did really well and I was very proud of them and the effort they put into learning the music."
Aviv concurred: being in a recording studio for the first time was very cool and David Broza was quite a character, joking and playing around with the kids (as you can see in the picture above). Perhaps even more impressive, though, was the album's producer, Steve Greenberg, whose credits include the Jonas Brothers and the Baha Men's "Who Let the Dogs Out?" to which the teens, many of whom weren't even born when the song first came out in 1998, instantly responded upon learning of the connection "Who, who, who, who?"
Greenberg's Israel background: he was a DJ on the fabled Voice of Peace pirate radio station in the early 1980s.
What's next for the Jerusalem Youth Chorus? More rehearsing, more dialogue and an upcoming collaboration with Sam Tsui, an Internet star (and former Whiffenpoof buddy of Hendler's) that may propel Aviv's afterschool activity into international superstardom of its own. Yehiye tov, indeed.
David Broza with Jody's mom 30 years ago
David Broza with Shifra Woodbridge, one of the teens, via Instagram