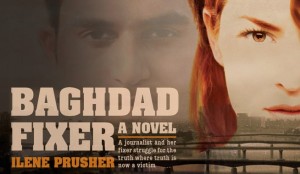 A who's who of Anglo Jerusalem journalists and other well-wishers came out on a blustery winter night last week to cheer on one of their own. Ilene Prusher, a former international foreign correspondent for the Christian Science Monitor and more recently working locally at The Jerusalem Report, The Jerusalem Post and Haaretz, has just published her first work of fiction, Baghdad Fixer. The party at Jerusalem's historic and toney Mishkenot She'ananim launched Prusher's 650-page volume in Israel (the book was published in the U.K. by Halban).
Baghdad Fixer is based on Prusher's experience covering Iraq for the Monitor in the days after the fall of Saddam Hussein. Prusher has also been bureau chief or stationed in Japan, Turkey and Afghanistan, but it was her experience in Baghdad that made an impression large enough to turn into fiction.
Journalists writing fiction is always an interesting line of questioning – especially for other journalists, such as moderator Jodi Rudoren, The New York Times bureau chief in Israel. Rudoren asked Prusher why she chose to flip the usual reporter-turned-book-author's storytelling conceit and, instead of weaving a loosely fictionalized autobiography told from the perspective of an American in Baghdad, the book is narrated by the reporter's Iraqi "fixer." (A fixer is that indispensible multi-lingual street smart local who knows how to get the right meetings…and the best ice cream, which formed part of Prusher's "interactive" reading at the launch event).
Prusher responded that it was davka because some people might think that what she's written happened to her exactly as it's depicted that she decided to tell the story from the fixer's eyes. That gave her more flexibility in shaping her American character – a female reporter in Iraq, like herself – as not entirely herself. It also gave Prusher the opportunity to dig more deeply into Iraqi culture, which grants the book refreshing authenticity.
As a fellow journalist who once dabbled in prose and poetry as a Creative Writing major in college, I often think about fiction – not as a separate genre of writing, though, but as part and parcel of the reporting process itself. Lawrence Weschler, a professor at New York University and director of the New York Institute for the Humanities, once said in an interview on the NPR program "On the Media" that all reporting is a form of fiction:
When you pick up the newspaper and read about a news conference…you are not reading the entire transcript…you are relying on the reporter to select the important things and to put them in a particular order. You are assuming that his editor has gone and reshaped those things. That is all fictional activity, in the sense that it is composing, it is making up a world.
When the NPR interviewer, Bob Garfield, pushed back and asked if by that Weschler meant that journalism is by nature subjective rather than objective, Weschler responded, "I would stipulate it is more glorious than that. It is narrative. It is storytelling. We are made to tell stories." He went even further to say, "I don't think I've ever quoted anybody verbatim. I quote what people remember having said. It is impossible to go out there [and do your job] as if you're going to 'laminate' the world."
Prusher has written fiction, clearly, and by the early reviews, good fiction to boot (full confession: I haven't read the book yet – my wife got it first). But if there's a grain – or even a half a loaf – of truth intermingled with the author's sparkling prose, that just makes the whole cake richer. Which in turn makes me want to get to know both the fictional reporter in Baghdad Fixer, and real reporter Prusher, a little bit better too.
I wrote about Baghdad Fixer yesterday on Israelity.