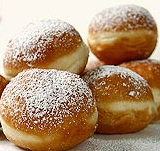 (Today's post is a holiday-inspired TNL Classic first published in 2002.)
I know they're bad for me. But I can't resist.
I'm talking about doughnuts, of course. Whatever shape, size or variety, I go do-m'shuga-nut over them. And at this time of year, in the midst of Hanukkah, Israel is overflowing with that uniquely Jewish version, the sufganiya.
Sufganiot (that's the plural) are a very simple but tasty version of the classic doughnut. Start with fried dough, don't even bother digging a hole, then inject jelly, caramel or chocolate directly into the middle. Finish off by coating the creation with plenty of powdered sugar.
Sufganiot season starts earlier every year, in some cases kicking off just after Sukkot. By December, they are ubiquitous. At Aviv's class Hanukah party, I watched in awe as a large white van from a local bakery drove up to the school gates, opened its doors and revealed platter upon platter of white frosted mass-produced tempting and scandalously scrumptious sufganiot.
There are sufganiot in the kitchens at work, sufganiot at Kiddush in shul, and sufganiot at the checkout counter of every supermarket from here to Haifa.
All of this reminds me of when our family was in the States a few years ago and I became obsessed with finding the ultimate doughnut:
A Krispy Kreme.
Now a tad passe since its stock price took a bath and the company was forced to close many of its free-standing stores, when we first heard about the chain, it was still as hot and fresh as its signature doughnuts and was taking North America by storm. I had also heard their doughnuts were to die for. And I had never had one.
So the running theme of that summer was Abba's obsession with finding that illusive Krispy Kreme. But on highways from Toronto to Cleveland to Chicago, our holy grail eluded us. It wasn't until I was out shopping late one night, in a forlorn suburban mall in the middle of nowhere, that I chanced upon a Krispy Kreme franchise store, beckoning to me from the middle of the nearly-empty parking lot.
The big deal about Krispy Kreme is that when the sign outside is lit, that means hot glazed doughnuts are rolling off the assembly line that's a prominent feature in every store.
The sign was lit.
I approached the store and, through the windows, I could see hundreds of just-baked lightly browned doughnuts rolling out of the ovens, then floating down a river of boiling oil before being tenderly flipped and arriving at the end of their journey: an earnest Krispy Kreme employee offering free samples to us, the lucky consumers who had timed our arrival just right.
I sampled. I smiled.
Maybe it was because it was hot. Or because I had waited so long for this moment. But I declared to my fellow consumers, and maybe to God herself, that these were the absolute best doughnuts I had ever tasted.
I proceeded to buy a couple dozen for Jody and the kids.
As much as I fawned over the Krispy Kremes that summer, I still have a special spot in my heart for the Krispy's more humble Israeli cousin. I think it must be the scarcity: you just can't run out to get a hot sufganiya in the middle of July. You have to wait for Hanukah to come near.
Which gives me an idea: why not create a year-round sufganiya phenomenon. We'd have to modify the formula a bit. Turn it more into a full meal. And stuff the sufganiya with more than jelly
How about spinach, broccoli and zucchini? Creating something more like a quiche.
Or fill it with chopped meat or shwarma or chicken schnitzel. We could replace the tired boring pita and the no-longer-trendy baguette with the hottest new trend: the fried dough sandwich!
From Ben Yehuda to Binyamina, this could be all the rage. Think of the entrepreneurship. The satisfied customers. The profits.
Shuki's Falafel, move over. Here comes Brian's Doughnut Quiche.