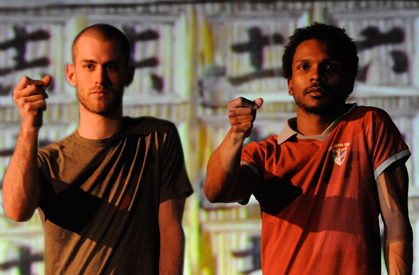 Jody and I will be married 20 years this summer. We decided to take an early anniversary trip last week. Originally we thought of going to a spa hotel, but all the spas we liked were booked. We opted instead of a day in Tel Aviv. It turned out to be both eye opening and fabulous.
For Jerusalemites, Tel Aviv is truly another world. It is laid back, sophisticated and most of all fun, unlike Jerusalem with its claustrophobic architecture, bubbling religious tensions and pot holed streets.
That's not to say that I don't love Jerusalem. Israel's capital retains a small town feel, it's filled with archaeological gems, and there is an international sense of pluralism with spiritual and educational opportunities that are unique among the world's great cities. Still, a trip to Tel Aviv is like a breath of fresh sea air. Maybe it's the beach or maybe it's proximity to culture in the most surprising places.
We started our day at the Tel Aviv Museum of Art, a modern structure with stark architectural lines and a world-class collection of modern art. The impressionist and post impressionist selection contains numerous works from Matisse, Renoir, Cezanne, Pissaro and Chagall. Other departments focus on everything from German Expressionism, Russian Constructivism, Fauvism and Cubism. There is a healthy sprinkling of Picasso and Van Gogh. We particularly enjoyed a retrospective of portraits from Jan Rauchwerger.
The Museum is in a complex that also includes the Tel Aviv Opera and The Cameri Theater, both of which we explored briefly before moving on to our next stop: the old Tel Aviv Port.
What once was a working seaport has been transformed into an engaging shopping and entertainment complex. A large wooden boardwalk affords stunning views of the waves below; all along its expanse are restaurants and bars, many with comfy sofas facing the water to chill out and have a late afternoon drink. The effect is very European – right in the heart of the Middle East. The port has everything from chi-chi designer shops, major chain outlets and even a high-end sex shop for women called "Sisters."
At night, the Port comes alive with nightclubs and dance facilities. When I went to the Sean Lennon concert, it was at Hanger 11 here at the port.
In the middle of the port is a temporary structure – a unique dance theater built and sponsored by the Batsheva dance troupe. The idea was to bring dance to the masses at a reasonable price. A single piece, called Furo, runs in a continuous loop with the actors swapping in and out every 45 minutes. The audience is free to come and go throughout the evening.
Furo (which means "bathhouse" in Japanese) combines modern dance with Japanese animation by the artist Tabaimo which is projected on three giant screens. The music ranges from electronic blips and beeps to raucous punk rock. Seating is on bleachers rather than formal chairs. The dancers have a relatively limited area to dance, positioned on top of two large speakers on the sides of the hall so as not to interfere with the animation.
We found the dance intriguing but the animation a bit repetitive. But at only NIS 60 ($18) a ticket, it was well worth the cultural diversion. Furo is only playing until mid July (daily 6:00 PM – 11:00 PM), so if you're interested in attending and you're in town, act fast.
People dress up to see and be seen at the Tel Aviv Port. I felt a little out of place in my Jerusalem jeans and t-shirt. Not so at our next stop: the Ta'am Ha'Ir food extravaganza.  Billed as the second largest outdoor food festival in the world (after the Windy City's "Taste of Chicago"), Ta'am Ha'Ir ("Taste of the City") – now in its 13th year at Ganei Yehoshua near the Tel Aviv Exhibition Grounds – features hundreds of booths from some of Tel Aviv's trendiest eateries offering small samplings of their wares for low prices – NIS 20-25 ($6-7) for most dishes.
We expected a genteel environment similar to the Jerusalem Wine Festival at the Israel Museum which also features food booths. But with 800,000 visitors projected over 4 days, the festival is more like a circus sideshow. Each booth has its own barkers who scream out increasingly insistent entreaties on megaphones, like at the shuk on a Friday afternoon. Pulsating trance music from several large stages (dairy manufacturer Tnuva, pop radio station Galgalatz and the state lottery system were all represented) plus crowds jostling elbow to elbow give the surroundings the feel of a mega dance club. This is a high energy event.
This being Tel Aviv, the vast majority of the stands were not kosher. We saw lots of shrimp, pork and cheeseburgers being consumed.
Participating restaurants include Manta Ray, Minna Tomei, The Red Chinese, Pasta Mia, Papagaio, Odeon, White Hall, Poyke, Brewhouse, La Goffre, Andre Ice-cream, Yogo, Dim Sum, Maya Taco Bar, Sheinkin Juices and Binyamina Winery.
We split a delicious gnocchi soaked in oil and pesto sauce from a dairy pasta restaurant and a vegetarian samosa from an Indian establishment. We finished our meal with a Belgian waffle covered in whip cream, maple sauce and – to our horror – Nutella chocolate sauce. Israelis do love their chocolate sauce. We were stuffed and not a little bit queasy as we stumbled back to the car.
As we drove back up the hill to Jerusalem after a satisfying anniversary date, we felt a tinge of sadness to be leaving the buzz of Israel's lively metropolis. We still prefer Jerusalem – it's a great place to raise a family and the sense of community can't be beat. The good news: Tel Aviv is only an hour away. We can visit as often as we like. And we plan to do so.