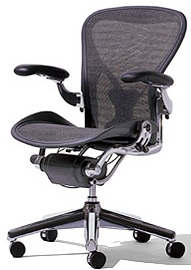 When is a chair not just a chair? When it becomes a metaphor for a personal obsession with seeking perfection.
It started innocently enough. I bought an expensive new office chair to soothe my aching back. I sit in front of my computer up to 10 hours a day so I figured I'd be well served by sitting in something more suitable than the $50 chair I've been using for the past 10 years.
I'd had my eye on the Herman Miller Aeron chair for years, since they were a status symbol in hip dot.coms. The Aeron is an eye-catcher, made of a knitted plastic material called Pellicle that allows air to flow through the seat and back. There are various adjustments to support the lower back and the chair rocks back and forth in natural motion. On the Internet, the chair receives nothing but accolades from customers who have bought one. So when we visited a Dr. Gav store recently and they had a floor model for sale at a discount, Jody and I made an impulse decision. We purchased it.
Now, when I tried it in the store it wasn't as comfortable as I'd imagined after everything I'd heard and read calling the Aeron "the most comfortable ergonomic chair ever designed." But I figured I just had to get used to it. The Aeron arrived a few days later and I started to use it.
The discomfort continued. The lower back support pressed in too hard. The seat depth was too great, causing it to jut into my knees.
I debated what to do. I made up my mind that the Aeron, despite all my expectations, was just not the chair for me. I went back to the Dr. Gav store. As is typical in Israel, they wouldn't give me my money back but they would exchange it. I tried another chair called the Controller. It was made of soft leather, had a high back and felt much more comfortable than the Aeron. Despite all the positive feedback on Herman Miller's signature office chair, I decided to swap it for the Controller.
I got it home. Half a day later, my back was killing me. The Controller angled me in such a way as to hurt not my lower back but my mid-range back. The arm rests were too stiff. The rocker put pressure on my thighs.
I looked online again. No one had anything but positives to say about the Controller. I started second guessing myself: maybe I shouldn't have gotten rid of the Aeron after all. Maybe I should swap it again for something else – a massage chair, a mattress – and give up on the whole office chair idea completely.
Or maybe it wasn't the chair but was me? How could I be so miserable over two of the highest rated chairs in the industry? I went to my therapist to discuss my chair trauma.
My therapist listened patiently to my complaints then shared her view. I was looking for the perfect chair, she said. The problem was, no such thing exists. Indeed, there is no perfect anything. Life is made up of a series of trade offs. The back might be softer on one chair, the tilt better on another. The happiest people, she suggested, are those who can actually revel in ambivalence.
What my therapist was saying resonated. It was more than the chair I realized. My obsession with perfection is deeply ingrained. I get easily disappointed. When I go out for a meal and order a dish that isn't the best there can be, I get depressed. On our recent trip to New York, when we went to the theater, I kept wondering if the show we had chosen not to see would have been more enjoyable. I even get upset if I didn't get a perfect night of sleep.
How did I get this way? My therapist said it's not uncommon for someone who suffered during childhood to develop this kind of reaction as an adult. And I certainly suffered: I grew up fat and lonely. I had few friends; kids at school taunted me, they kicked and hit me. A coping mechanism children like me develop, my therapist explained, is a view that when they grow up, everything will finally be perfect. It's a way of staving off the void of depression that would otherwise overwhelm a difficult childhood.
I eventually grew out of it, slimming down by my teens. But now, as an adult, that need for perfection I developed as a kid has kicked in big time, just like my therapist said. And it's not serving me well.
My therapist suggested I try to transform my chair experience into a corrective activity that could help turn around this negative obsessive way of thinking. In Hebrew, it's called a tikkun – fixing something that's broken. If I could accept the chair as a real, naturally flawed object, with all the trade offs that entails, and stop my perfection-seeking script, I might be able to break the cycle in other areas as well.
I resolved to work with the chair. No more thinking about returning it or second-guessing or regrets. I had to learn to live with it. Only by making peace with the chair and the metaphor that it represented in my twisted psyche could I hope for some sort of peace.
It's been several weeks since I decided to keep the chair. Is it perfect? Not by any means. My back still hurts, but less so, as I've given in and allowed myself to get used to it. I can see its benefits, and it's certainly better than the $50 chair I was using before. I haven't broken my obsession with perfection yet. But I'm hopeful that the longer I sit, there may be something for which, eventually, I can stand up and cheer.