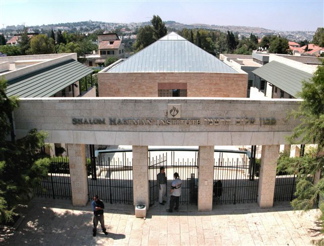 Options for modern religious education for girls in Jerusalem just got a whole lot more interesting with the recent openings of two new schools this fall, both backed by immigrants from North America.
The modern Orthodox Shalom Hartman Institute, which trains rabbis, teachers and scholars from Israel and the Diaspora in a pluralistic environment and which has run a popular boys' junior and senior high school since the mid-1990s, opened seventh, eighth and ninth grade classes in September.
Beverly Gribetz, an innovative educator who served as the popular principal of the Evelina de Rothschild girls school, also opened a new school this month, in this case for grades nine and ten.
The two announcements have put pressure on the existing girls high schools catering to modern Orthodox students in Jerusalem. Both Hartman and Tehilla, the name for Gribetz's school, are decidedly liberal, offering girls opportunities to both study Talmud and lead prayer services. Other girls schools catering to a non-ultra Orthodox crowd in Jerusalem include the prestigious Pelech School, the Omaniyot Torah and Arts High School, Rabbi Shlomo Riskin's Ohr Torah, and Gribetz's former alma mater Evelina de Rothschild.
The Shalom Hartman Institute was founded by former Montreal pulpit Rabbi Professor David Hartman in 1976, and the new Hartman girls school is headed by his son Rabbi Professor Donniel Hartman, co-director of the Hartman Institute, and Dr. Chana Kehat, who founded the feminist religious organization Kolech (in Hebrew: "her voice"). The school will be based on the proven track record of the boys school with which it shares some facilities.
Kehat says the new school will be "Orthodox but open-minded," and will employ a critical approach to the study of Jewish texts, along with the inclusion of volunteer work in the daily schedule, all elements that have made the boys school a top choice for modern religious families. A new program will bring a revolutionary sex education curriculum –one of the first ever for religious schools in Israel – to both the boys and girls.
Hartman is being careful not to call its new offering a "school," but rather a "track." The Israeli Education Ministry has a longstanding history of hostility towards new schools in Jerusalem. Donniel Hartman explained during an open house earlier this year that the educational authorities initially saw no need for new schools in the city, claiming there are enough seats in religious classrooms to accommodate all students. That seemed disproved by the turn out at the Hartman introductory evening: 120 chairs were set up; over 400 students and parents packed the house.
Ultimately, Hartman has been designated a savior of sorts for the Evelina school which has absorbed the biggest blow in enrollment following the opening of the new girls options in the city. Hartman has taken over some of Evelina's facilities and faculty with the intention to eventually phase out the 148-year-old Jerusalem institution entirely within a few years.
Tehilla's new principal, the American-born Gribetz, who headed up the junior high at Ramaz, a modern Orthodox high school in New York City, and who has taught at the Pardes Institute of Jewish Studies and Pelech since immigrating to Israel in 1977, has seen her share of opposition from the Education Ministry as well. In September 2005 she opened a first incarnation of her Tehilla school…without formal approval from the Education Ministry.
"Opening a school without a license is not unusual," one Tehilla parent commented and, generally, the Ministry turns a blind eye. Not in Gribetz's case: Tehilla lasted less than two months before being shut down.
The closure order seemed less motivated by protocol and more by the Education Ministry's apprehension towards Gribetz's vocal attempts to shake up the religious girls education system and import what the Ministry feared would be "foreign" concepts to education in Israel. At Evelina, for example, Gribetz introduced a wide range of subjects into the curriculum including Arabic, drama and sport, raised a not insignificant amount of money overseas, and transformed the school's declining reputation. The Education Ministry said in a statement that "Ms. Gribetz's views and ideas were not included in our considerations for rejecting her request." Gribetz has since received a court ruling allowing the opening of her new school.
Tehilla will emphasize a creative approach to learning and Gribetz has talked about bringing in well-known rabbis and professors to teach the girls Talmud as well as professional musicians and artists to run those respective programs. Admission to Tehilla is not based on grades. That's in part because Gribetz also wants an "integrated" school with students from a wide spectrum of religious and socio-economic backgrounds, an antidote to the avowedly elitist Pelech.
Tehilla's integrationist approach, ironically, may lead to the school becoming less pluralistic than Gribetz herself might prefer. When asked whether the school will have girls Torah readings, Gribetz equivocated, saying it will be up to the community to decide and that the school will be sensitive to families from more traditional backgrounds.
That's not the case at Hartman which has committed itself to prayer opportunities for girls and even accepted a girl who puts on tefillin – in strictly Orthodox circles a practice reserved only for bar mitzvah and older boys – and whose mother is a well-known Jerusalem-based Jewish Renewal Rabbi.
Any way you look at it, education for religious girls in Jerusalem may never be the same.