This article was posted on Jewish.com on Sunday, July 23, 2006. The link is here. 
 
After years of languishing as a national pariah, Jerusalem is suddenly packing in the tourists.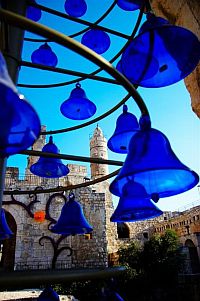 The War with Hezbollah is,
in a paradoxically twisted way, turning out to be one of the best
things to happen to Jerusalem tourism in years. The city's cafés are
overflowing and museums are packed as overseas tourists, bolstered by
residents from the besieged north of Israel, turn their vacation
attention on the national's capital.Tourist spots all across
Jerusalem, including the venerable Israel Museum, are offering 50
percent discounts to visitors from both the north and from communities
adjacent to the Gaza Strip. Suddenly, the city that has long been
branded a national pariah – perceived to be so dangerous that many
ordinary Israelis have never visited at all – is the country's new
center of culture, the one place in Israel deemed to be out of the
range of Hezbollah's and Hamas' Katyushas and Kassams.
And
Jerusalem has responded in kind by putting on its best party dress and
dancing shoes. The range of events – a large number of which are free –
scheduled for the coming weeks is nothing short of overwhelming. Not
that this is entirely new: summer in misunderstood Jerusalem is always
a non-stop express of outdoor extravaganza; this year just seems even
more so given the "situation."
Some examples: there's a free
jazz festival every Tuesday evening in southern Jerusalem's German
Colony neighborhood and another on Thursdays and Fridays on a
picturesque rooftop in historic Yemin Moshe, next to Montefiore's
Windmill, overlooking the Old City.
The Tower of David Museum,
in the Old City itself, is playing host to a unique series of events
featuring musical instruments played by mechanical devices, including a
giant, wooden, three-meter-high (that's (nine foot) harp plucked by 29
mechanical fingers, and a four-story tower of steel drums to be beaten
by 33 robotic arms.
Nearby at the Khan Theater, the Hazira
Dance Troupe is inviting visitors to a free interactive
audience-participatory performance next Saturday night, followed by a
break and belly dancing party in the theater's historic courtyard.
Israeli
rock legends Aviv Gefen and Monika Sex are set to play at a free
concert in Independence Park in August, while rapper Segol 59 and Iggy
Waxman will be lighting up the new pedestrian triangle between King
George and Agrippas Streets downtown. The annual International Crafts
Festival in Sultan's Pool promises big name local talent including
Tipex and Arkady Duchin. All that's on top of just concluded Jerusalem
International Film Festival, which bestowed its Life Achievement Award
on visiting director Roman Polanski.
And did we even mention the annual summer Beer Festival, which gets underway this week?
Fleeting Time
As
Israelis flock to a happening Jerusalem, it seems light years ago that
riding a bus or sitting in one of the city's café were tantamount to
publicly proclaiming a death wish. Not that the rest of the country was
immune to the terror that reigned unchecked before Operation Defensive
Shield effectively silenced many of the most horrific attacks, but
Jerusalem had by far the greatest concentration of bombings.
All that's changed, for the moment at least.
Last
week, a friend of ours who lives in the center of the country needed to
buy clothes for her kids to wear to an upcoming bar mitzvah. As she
entered the Ra'anana Mall in a suburb just north of Tel Aviv, three
armed guards at the entrance told her she could go in, but she couldn't
come out: they were locking the gate behind her. There was a high
terror alert throughout the Sharon region (a terrorist on his way to an
attack was later apprehended in nearby Hod Hasharon). The mall itself
was nearly deserted. All the shopkeepers were talking about the terror
alert or the missiles in the north and whether they'd eventually reach
as far south as Ra'anana.
The next day, our friend went shopping
in Jerusalem and reported that it was "business as usual." Jerusalem
was bustling, she said; everyone seemed to be enjoying themselves
thoroughly, as if nothing at all was going a short two hour drive away.
Over
Shabbat we hosted the program director for Harvard Hillel. He was in
Israel to put the final touches on a program for some 20 Harvard and
Yale students who are due to arrive in another two week's time. He
wasn't sure what to advise the students…or their worried parents. Would
it be safe to come while Israel was in the midst of a full-fledged war,
albeit one limited to only certain parts of the country? If the group
eschewed travel to the north and stayed primarily in the Jerusalem
area, would that be a prudent compromise or a still unnecessary risk?
He decided to wait a few more days before making the call.
Northern Exposure
But
is the north really so dangerous? Not according to Michael Taslitz, who
lives in Har Halutz, a small hilltop community not far from Karmiel and
only a few miles from the Lebanese border. His approach to the war
surrounding him was nonchalant, even casual, to say the least.
"Yes,
we had a Katyusha land within about a kilometer of our house. But the
kids aren't terribly anxious about it," he said. "They know if we hear
the siren we go to the bomb shelter, which also happens to be our
eldest daughter's bedroom. When we moved here, we were told that the
bomb shelters were designed to withstand the direct hit of a Katyusha."
Not something you usually think about when you're buying a house in San Diego.
Aren't you concerned though? How can you sleep at night, I asked the former Southern California resident.
"It's
not like we're living in an atmosphere of terror," he assured me. "It's
more of an inconvenience. All of the camps are closed down. There's no
day care, so one parent has to stay at home." As a result, they decided
to get away for a few days, and when I spoke to Taslitz, the family was
visiting friends in Jerusalem.
Taslitz admitted it might be
different if he lived in Haifa or Nahariya proper, referring to the
northern Israeli cities that have borne the brunt of Hezbollah's wrath.
Nevertheless, "we're going home after the weekend," he added.
Ironically,
Taslitz's wife, Leora, had not visited her sister who lives in the West
Bank settlement of Efrat since the violence broke out in 2000. She
finally made the trip only a few months ago. I wonder if her sister
would visit her in the north today?
"It's all very surreal,"
another friend who lives in Ra'anana summed up the situation. "No one
can believe it's really happening, that someone they know is actually
there (in the north) while we're off to the pool to go swimming."
Or in Jerusalem, to sit in a packed café while listening to a jazz band or a tower of steel drums beaten by giant robotic arms.