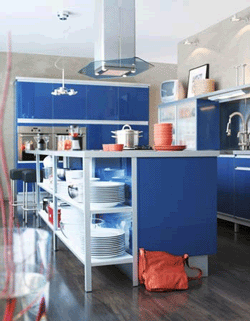 We recently took a trip abroad. But we didn't get on an airplane, and we didn't cross any borders.
We visited Ikea.
Ikea, to the uninitiated (as we were before our recent pilgrimage to its Netanya branch,
Ikea's only store in Israel) is a home furnishings extravaganza of
theme park proportions. You don't just visit Ikea when you need a new
bed or a set of kitchen tongs. You go for the experience.
Which is what my wife Jody and twelve-year-old daughter Merav did one
day last week. So for those of you who have never visited Ikea (or
who'd like to compare our Israeli Ikea adventure with the store you
might have closer to home), here's my report.
First of all, I should note our visit was not just a fun day out with
the family. We were also in the process of shopping for home furniture
for the apartment we started renovating this week. As a result, we've
visited plenty of shops selling toilet seats and shower heads and miles
and miles of floor tiles. These stores have ranged from dingy to
modern, but one thing has been consistent: they are always located in
the middle of some grubby industrial area with tight parking and shabby
surroundings.
The journey "abroad" at Ikea begins in the parking lot: huge and
spacious, it reminded me of visiting a Costco in the "old country." Or
that massive mall we once stopped for ice cream at while touring in the
Czech Republic.
Once inside, the only way I can properly describe Ikea is that it is built like a wild animal park with a healthy sprinkling of Disney World sensibility.
Before entering, you get to meet your fellow revelers during the
obligatory bag check. The line can get long at peak times, (on its opening day several years ago, an estimated 50,000 Israelis jammed the store creating up to two hour waits) so Ikea has
thoughtfully provided a canopy to protect against rain or excessive
sunshine.
Once inside, you take the escalator to the top floor where you set out
along a path that winds down through various "habitats." Look, there's
the kitchen and dining room habitat! – nice neat little rooms with
sample chairs and counters and faucets all for sale and arranged so you
can imagine yourself really living there.
Merav could barely control herself as she sat down at various kitchen tables and opened and closed cabinets and drawers.
A little further along, in the living room "habitat," there were
pictures on the wall and books in shelves. Now here's where it starts
to get even weirder: the families in the pictures are all Scandinavian.
Which makes sense since Ikea is a Swedish company. But I would have
expected the photos to be "localized" to suit the Israeli environment.
Instead, all the smiling faces were blond, blue-eyed good looking
Swedish couples with one or two kids out somewhere in a picturesque
nature scene or sailing down a fjord in nearby Norway that doesn't look like at all like a Middle Eastern
landscape of rocks and desert.
And then there were the books – all in Swedish. Row after row of them. Dag this and Astrid that. You see why I said it's like visiting another country!
The shoppers at Ikea in Israel are definitely not Swedish but rather
represent a real melting pot of Israeli society: religious, secular,
Jewish, Arab. All united in the pursuit of a better, more beautiful
kitchen.
We continued on past the initial "habitats" and entered an area where
the animals, I mean the shoppers, could roam free, not constrained by
all those neat little fences and boundaries. We were now in the Couch
Prairie.
What looked like a football field's worth of sofas, Scandanavian Laz-y-Boy-style
recliner chairs, and convertible futon couches were lined up one after
another. Scattered around the room were tables with televisions.
But not any televisions. Fake televisions. Oh, they look real enough,
but the insides have been stripped out. You push on the plastic screen
and it bounces back; the interior is hollow.
As we continued down the path, there were fake DVD players and false
microwaves and phony dishwashers…apparently there is a whole industry
for making pseudo-electronics. Who knew? Kind of like the plastic sushi
that adorn every restaurant window in Japan.
When we finally got to the café at the end of our journey through the
wild kingdom of Ikea (every theme park has an overpriced fast food
outlet strategically placed when you're least likely to resist), we
were pooped. Merav and Jody had ice coffees; I downed several glasses
of Pepsi Max ("free refills" – such an enticing concept).
"Well, that's it," Jody said eyeing the elevator. "I guess it's time to go."
We headed over to the lift, hit the down button, expecting to be
released back into the parking lot, but instead…we found ourselves
plunging into mystery and danger, like the Haunted Mansion ride at
Disney.
The elevator finally stopped, the doors opened…and we were confronted by an entire second level as big as the first.
Plates and cutlery, kitchen doo-dads, trash bins, light bulbs, wall
fixtures, all manner of office supplies. Enormous yellow shopping bags
were stationed throughout, looking more like the plastic rain
protectors we once wore at Niagara Falls.
By now it was getting later
in the afternoon and the floor was humming; People were just tossing in
whatever struck their fancy. How could we refuse? And at such
attractive prices too.
Didn't we need a new ice cube tray? A couple of squeegees for the kitchen sink? Oh and look at that adorable napkin holder…
The other shoppers were remarkably restrained and well mannered with no
frenzied grabbing – this was not like an Israeli shuk despite the fact
that both offer a wide assortment of cheap frying pans.
But before we knew it, the flora and fauna was changing again. We
exited the bargain basement part of the ride and entered a cavernous
warehouse (did they launch space shuttles from Ikea too?) But no, this
was where, in a model of efficiency, shoppers picked out their own
furniture in its original packaging, plopped it on portable palette and
wheeled it to a sea of check out counters wide enough to fit a Hummer
through.
We scoured the scene for the shortest line, paid for the goodies we
didn't really need, and were finally released. Not a bad ride, though.
I'd say it was at least three hours long – much more than the average
90 seconds on a theme park roller coaster.
As we walked out through the big Ikea automatic sliding doors, I
exclaimed what is de rigueur at the end of any amusement park
experience: "Let's do it again!"
Jody and Merav both scowled at me. The only ride we'd be doing again tonight was the hour and a half journey back to Jerusalem.